Online Lottery Syndicates | Lottery Syndicate Rules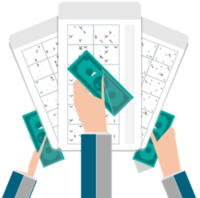 An online lottery syndicate, which is a fancy term for a group of people who pool their tickets together, has the biggest chance of winning any game because it is not just one individual betting on a single ticket to win the grand prize. A syndicate allows its members to make what would normally be astronomical odds work in their favour.
Lottery syndicates have been around since gambling and lotteries began centuries ago. People would pitch together their entries and make a verbal or even written agreement to split the amount between them in proportion to ticket contribution.
Playing with a syndicate can be expensive, especially if you choose to play online. However, you and your group have more chances of successfully combining the right numbers for an epic win!
How Online Lottery Syndicates Work
If you play alone, you are facing the odds of one in a million or more. You will need to divide the prize amongst the group you join, but the huge winnings, which are still substantial amounts even when shared, make up for the investment you make.
The El Gordo Spanish Christmas Lottery is one example of a high-payout game that encourages playing with a syndicate. A single entry is worth a fortune, which makes it fun for office staff, families, and other groups focused on lotteries to pool their money together to purchase a single entry. The Spanish Christmas Lottery publishes 100,000 tickets per series, which means there are duplicate ticket numbers who will divide the large prizes amongst their respective groups.
Most online ticketing and betting services give you a chance to join lotteries with a syndicate. You can even choose the number of shares or percentage you get if any ticket from the group wins.
Defying the Odds En Masse
A single player often faces lottery odds much higher than one in a million. For example, the US MegaMillions jackpot has millions in store for just one player, and there are 175,711,536 possibilities of winning the game. While your chances of winning the biggest amount are better when you purchase 100 or even 1,000 tickets, this is an extraordinary financial feat and it still does not guarantee you'll get your money back. However, playing with a group solves this fiscal problem and improves your winning odds.
Syndicates fare better with secondary and lower-tier prizes, which are still significant winnings. Using the odds in MegaMillions, the chances of winning a 4+1 or 4+0 combination become better.
These are the original odds for a solo ticket joining MegaMillions:
5+1: 1 in 258,890,850
5+0: 1 in 17,259,390
4+1: 1 in 739,688
4+0: 1 in 52,835
3+1: 1 in 10,720
3+0: 1 in 766
2+1: 1 in 473
1+1: 1 in 56
0+1: 1 in 21
If you play with a syndicate of ten individuals playing five tickets each, the collective pool of 50 tickets make the odds significantly better.
5+1: 1 in 5,177,817
5+0: 1 in 3,451,878
4+1: 1 in 14,794
4+0: 1 in 1,057
3+1: 1 in 214
3+0: 1 in 15.32
2+1: 1 in 9
1+1: 1 in 1.12
0+1: 1 in 0.42
Even when the odds become closer to zero, you can't ever be sure you'll win the game, but at least you can be certain you have a fighting chance. Non-jackpot winnings are significant too; if you earn 100,000 and you are playing with a syndicate with ten members, you each receive 10,000. Most online lottery ticketing and betting services allow players to purchase their amount of shares per draw.
Different Lottery Syndicate Strategies Explained
Numerology and noting the repetition of number combinations that won are two strategies some players use to choose their lottery ticket numbers. Using these strategies is useful if playing lotteries with a syndicate too. Here are four other known strategies that are used often to give syndicates a better chance of winning.
Random Selection: You can choose any number you wish. Numbers can repeat in each line.
Systematic: You can create all unique combinations from different sets of numbers. Most players using this strategy have sets of 7-10 numbers.
All Combinations: You can use every possible combination of available numbers per line. By matching all the combinations at least once, you and your syndicate have a chance to win the grand prize.
One Changing Number: Each line you enter has one number that changes. The more entries you and your syndicate have, the better chances you can match at least one of the numbers you draw.
Risks Involved When Playing with Syndicates
Syndicates increase your chances of winning anything from the lottery by playing with a bigger set of tickets. However, even if you win the biggest amounts, you will still take home only a portion of it.
While your chances to win secondary to lower-tier prizes greatly improve, you will still need to divide the winnings with your peers. If the amount the group wins is lower than your investment in the number of entries and shares, you will have a small loss.
For offline players, trusting a single member to coup all your tickets and winnings can also be a risky move. In Australia, a man named Gary Baron pooled together the tickets he purchased along with 15 other co-workers. Each invested AU $20 for the entries, which gave them a great fighting chance. During the day of the win, however, Gary Baron reported he was the one who purchased all the tickets and ran away with the AU $16 million grand prize. Eventually, a private settlement defused the situation, but it was quite ugly for some time.
Biggest Syndicate Wins
Luckily, the events associated with Gary Baron and his associates are not always the outcomes of syndicate lottery play. In fact, great groups have reaped the fruits of their pools.
Tres Amigos: Three teachers from Maryland had pooled their tickets together to purchase only 60 tickets for the US MegaMillions for a draw in March 2012. The players paid $60 for all their entries. Their investment paid off after they won the $656 million grand prize, which they split into $218.6 million among each other. Their winning numbers were 2, 4, 23, 38, 46, and the Mega Ball 23.
Ocean's 16: After Superstorm Sandy, Ocean Country citizens were just recovering from the disaster. Sixteen workers from the Ocean County Department of Vehicle Services direly affected by the storm pooled their tickets together and won approximately $448 million from the US Powerball. Nice to know that Lady Luck does care for those who are in need!
Bus-Driving Millionaires: Twelve bus drivers from Northamptonshire placed their bets together for the EuroMillions, which rewarded them an estimated £38 million, split into £3.1 million for each player. Understandably, none of them showed up for work the next day.
How to Play Lottery Syndicates Online
Most online lottery betting and ticketing services allow you to pool your tickets with a random group of individuals. Some services have assigned groups you can choose to play with. Before you buy an entry from the service, it will have two options often described as "Single Play" and "Group Play." The Group Play option is sometimes labeled as "Join a Syndicate" or "Syndicate Play."
Most Internet-based companies allow you to choose the number combinations, number of lines, and the quantities of shares when playing with a syndicate. Some services pre-select the numbers on your behalf.
Online play allows any player from a country that legally allows online gambling and playing lotteries to join these services. They usually accept payments from major credit cards, e-wallets, and instant pay services.
Internet-based lotteries give you access to a great number of international big-win lotteries. Most include the US Powerball, MegaMillions, SuperEnalotto, the Spanish Christmas Lottery, and more.
Conclusion
Due to the increased odds of winning that online lottery syndicates can provide, they are definitely worth considering. If you've been playing lotto for a while and have never even come close to the type of winnings that you've always dreamt of, then it might be time to give a syndicate a shot. Any of the sites below are great places to start