Lottoz Review | Is Lottoz.co.uk legit or a scam?
Type

Lottery Betting

Company

Morpheus Games UK

Year established

2017

Jurisdiction

Malta

Licensed by

UK

Alexa rank

1,706,377

Norton rating

Safe

Languages

1

Payment methods

5

Currencies

£

Commission

None
Lottery games

14

Scratch cards

No

Lottery syndicates

No

Video slots

No

Subscriptions

No

Loyalty program

No

Gift vouchers

No

Live support

Yes

Phone support

Yes

Mobile app

None
An Overview of Lottoz.co.uk
Lottoz is an online lottery service that allows players to make lottery bets on various real-world lotteries, and win the advertised prizes without participating in the official draw. Players can play 14 of the world's highest-paying lotteries including the US Powerball. The website's only available language is English, and Lottoz is owned and operated by a company called Morpheus Games, which is registered in Malta, with a valid gambling license from the UK Gambling Commission.
Note: At present time, only players resident in the UK may join Lottoz.co.uk.
Is Lottoz Legit or a Scam?
We advise you to stay away from this website for the time being. We are generally weary of lottery betting websites, since there is so much potential for ripoff. Imagine drawing the winning lottery numbers for a €190 jackpot on EuroMillions, only to find out that the betting service has  very limited insurance that only covers part of the prize? Remember, all companies are only liable up to their value, and can easily go bankrupt, especially when they are incorporated in countries like Malta and owned by foreigners. It's possible that the management of a company like Lottoz is betting on you not drawing the winning numbers - and plan to fold as soon as it happens.
Lottoz is a potential scam because:
1. The website and company are fairly recent, and we know nothing about them. Has anyone actually won?
2. We know nothing about the insurance model. Who exactly is going to pay out the prize? Is there enough coverage? Is every draw entry properly insured?
3. When writing this article, we contacted the support team at Lottoz.co.uk and received no response.
As a legit and time-proven alternative, we recommend MultiLotto (on offer is a great welcome bonus!). A full list of lottery website recommendations is available in our Online Lottery Ranking.
Lotto Games Available for Players
Lottoz has the following lotteries that you can play online:
US Powerball
EuroJackpot
EuroMillions
MegaSena
SuperEnalotto
MegaMillions
Oz Lotto
Irish Lottery
El Gordo
France Lotto
Poland Lotto
Oz Powerball
La Primitiva
Bonoloto

Buying Tickets
You need to register an account with Lottoz to join the available online lotteries. At the top-right corner of the homepage is the "Join" option, which will take you to a simple form that asks for your complete name, birth date, email, your country of residence, and your postcode. The postcode's "Find Address" feature will find your address automatically when activated.
You need to deposit money to your account before buying any bets. Lottoz.co.uk accepts Visa, Mastercard, Maestro, Neteller, and Skrill payments. The registration menu allows you to choose your daily deposit limit from €550 to €55,000. You are required to choose a deposit limit before you can create your account, which you can change later in the "My Accounts" page. If you go beyond this limit, the website cancels your transaction automatically.
Lottoz has a cart feature enabling you to buy multiple bet entries and checkout only once. During checkout, the website will list all your orders. From this list, you can select the number of lines and draws you wish for each bet. The total is displayed at the bottom of the screen before you proceed to their secure checkout.
Claiming Prizes
Lottoz uses bets instead of physical lottery tickets. Using an insurance model, the online betting platform will match all prizes of the existing international lotteries, including the biggest ones. If you win, it is their insurer who pays you.
If you win a secondary prize in Lottoz, they will notify you by email that you have won. They will add the winning amount to your online account automatically after processing.
For any prize above €550, including the grand prize of any lottery, the service will ask you to submit scanned identification documents for verification. For grand prizes, it may take days to a week of processing before you can see the prize is reflected in your account.
The minimum amount to cashout your winnings is €20 / £20.
User Experience
Lottoz's website is simple, direct, and evokes fun and excitement. The game cards and the brand icons of famous games are prominent because of the white background against which they appear.
The left section of the website displays the latest winning numbers for your convenience. If the lottery you joined is not in the initial display list, you can click "See All Results" to check all the winning numbers. A quicker way you can do this is to use the "Lottery Results Checker" feature in the right section. You can select the lottery you joined from the pull-down menu and click the "Check My Numbers" option to see all winning numbers from the game's latest lottery draws
Buying, choosing your numbers, and placing your bets are convenient in Lottoz because it uses the online counterparts of all its games' real-world tickets. All you need to do is click on the numbers, select the number of lines and draws, and proceed through checkout.
The website responds to any screen size, so you can use it at home or while on the go. On smartphones, the site adopts a single-page sliding format that shows all content more simply and creates a context menu on the top-left corner of the screen for easier navigation.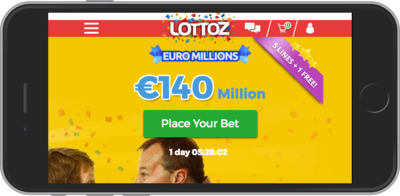 Play Eligibility
At present, Lottoz.co.uk allows any player who is 18 years of age or above AND resident in the UK to participate in the international lotteries. We assume this restriction has to do with the UK license, and will probably be lifted once the service grows and acquires an international gambling license from a jurisdiction such as Malta or Curacao.
Customer Support
The online lottery platform has a live chat feature that automatically activates once you visit their homepage. A representative will respond to your question within 5-10 minutes.
However, the website does not specify the live chat's schedule of availability, so depending on when you are visiting the site you might see it online or offline at the right side of the screen. If it is unavailable, you will be asked to fill out a form with your email address and your message.
Alternatively, you can email them at support@lottoz.co.uk, tweet your concern at @Lottoz_, or contact their Facebook page at Facebook.com/Lottoz. You can also reach their primary phone number: +44-0333-150-0669.
Lottoz responds to emails, tweets, and Facebook messages or comments within 24 hours during its business hours, which are unspecified by the website.
Promotions and Bonuses
Lottoz has a "Daily Deals" feature that changes every day for specific jackpot games. These bonuses give you an extra line for your ticket if you pick a specified quantity of lines before you make your purchase. In the "Lotteries" page, the list of all their lottery games will display a gift box icon that indicates the specifics of each bonus. You can sort them to the top quickly by clicking the "Offers" option near the top-right corner of the page.
The Bottom Line: Only the Major Jackpots for Players on Lottoz.co.uk
Lottoz may only have 14 lotteries, but each of these lotteries pays out millions in winnings for players. While it could use more methods of payment, the service's quick payout system for secondary and substantial prizes makes withdrawing your winnings into your bank accounts easy and hassle-free.
With an easy-to-navigate and responsive website full of convenient features, a notably helpful customer support system, and huge winnings, Lottoz is indeed a fun and no-frills service that both new and veteran online lottery players can enjoy repeatedly.