WinTrillions Review | Is WinTrillions.com legit or a scam?
Type

Lottery Messenger

Company

Legacy 8 Gaming

Year established

2005

Jurisdiction

Malta

Licensed by

Curaçao

Alexa rank

190,152

Norton rating

Safe

Languages

7

Payment methods

10

Currencies

$ £ €

Commission

None
Lottery games

22

Scratch cards

Yes

Lottery syndicates

Yes

Video slots

No

Subscriptions

Yes

Loyalty program

Yes

Gift vouchers

Yes

Live support

Yes

Phone support

Yes

Mobile app

iOS
An Overview of WinTrillions
WinTrillions has been around since 2005, and offer 22 grand prize lotteries and 9 millionaire raffles. The service offers players a chance to buy official international lottery tickets, and win in the world's highest-paying lotteries. WinTrillions has an estimated 480,000 customers and physically operates in 118 countries. Its website is available in 9 languages and 3 currencies: The US dollar ($), British Pound Sterling (£), and euro (€).
Lotto Games Available for Players
WinTrillions offers these lotto games for players:
US Powerball
California Superlotto
EuroJackpot
EuroMillions
EuroMIllions UK
SuperEna
MegaMillions
El Gordo
US Hot Lotto
Irish Lotto
Oz Lotto
Florida Lotto
New York Lotto
Canada Lotto
French Lotto
UK Lotto
Powerball Australia
La Primitiva
MegaSena
German Lotto
UK Thunderball
Christmas El Gordo
September's Special Draw
Saturday Draw
Thursday Draw
Sorteo Especial
Sorteo Mayor
Sorteo Superior
Sorteo de Diez
Sorteo Zodiaco Especial
Sorteo Zodiaco
Buying Tickets
Before you can begin playing, you need to open an account on the website. You can find the "Open an Account" option on the top-right corner of the page. You will need to fill out a form that asks for your complete name, birth date, local landline and mobile phone numbers, an alternative email address, and your physical address.
Aside from bank transfers, WinTrillions accepts all major credit cards including Visa, Mastercard, JCB, Delta, and American Express. The website also accepts E-wallets such as WebMoney, Todito, Giropay, and Paysafecard. Ukash vouchers, mail checks, money transfers, and Bitcoin are also accepted.
All online accounts on the website are secured by a 256-bit SSL encryption system that guarantees all information about players and their winnings is kept confidential.
Claiming Prizes
The website will display all winning numbers on the homepage within a few minutes after lottery draws are finished. If you win secondary prizes, the company will send you an email notifying you of the lottery you joined and the amount you won. They will deposit your winnings in your online account automatically.
If the prize is substantial enough, a representative from their "Winners Support Team" will call your landline or phone number to inform you personally about your win.
WinTrillions' representatives in the same country as the lottery will claim your prizes on your behalf and deposit your winnings. For grand prizes, you will be asked to fly into the country of the lottery you joined, claim your ticket from WinTrillions' local office, and claim your prize from the lottery organization.
WinTrillions may ask for valid government-issued IDs from your country of residence, and your birth certificate. Additional documents may be asked to help verify your identity sufficiently before handing your winning ticket.
User Experience
WinTrillions' desktop website is organized with small cards that show the top online lottery games available. The cards also show the grand prize of each game and the remaining time before the draw. You can choose to buy tickets immediately by clicking the "Play Now" button.
If it is your first time playing a particular lotto game, the ticket-buying screen has an FAQ section that informs you about the game mechanics, the deadline for buying tickets, the odds you will face for the biggest winnings, and reasons why you should play the particular lottery.
WinTrillions has a responsive mobile website for smaller screens, and provides an excellent user experience for both Android and iOS users. For your convenience, a mobile app is also available for iOS smartphones. An Android OS app is in the works and should be available shortly.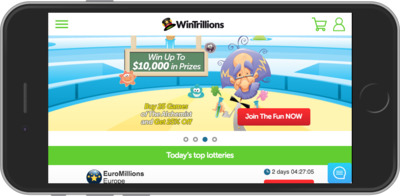 Play Eligibility
WinTrillions allows any player 18 years of age and older to participate in all its lotteries. However, players are advised to know whether it is illegal to join online gambling or lotteries in their country of residence before joining.
Recent Wins
Online lotto services do extremely well for the luckiest players on the planet. One such winner is Enrique Ramirez from Ecuador. The factory worker used the company to play for six months before winning over €213,500 by joining in the US MegaMillions.
Another winner is an American woman named Katie, who is from Lancaster. After placing her bets in the US MegaMillions through WinTrillions, she had won a substantial secondary prize over €213,500.
Customer Support
WinTrillions offers a live chat service that is your best bet when looking for speedy support. You can find this at the lower-right corner of the support page. Note that the live chat is only available during business hours - EST 08:00 to 19:00.
You can leave an offline support ticket by filling out the available contact form in the Help section of the website. You will need to fill in your complete name, email address, telephone number, country of origin, and your question in the provided box.You can also email them at support@wintrillions.com. All offline support tickets are responded to within 24 hours.
You may also contact them through their business phone numbers +442031399052 and +525547772359.
Promotions and Bonuses

This online lotto platform has a VIP loyalty membership service. You can choose to be a Gold, Diamond, Platinum, or Titanium VIP member of the service to enjoy added benefits whenever you buy lottery tickets. Corresponding points would be given every time you purchase a ticket.  Huge discounts on specific game tickets are available for exclusive Platinum and Titanium VIPs.
You can pool your tickets with other players by joining one of the 13 lottery and 3 raffle syndicates. WinTrillions also features scratch card games, a "Daily Deals" feature that gives random discounts and changes every day, and gift vouchers.

The Bottom Line: An Excellent Lotto Platform Honed to Perfection
WinTrillions has become a trusted and reputable online lotto service over the years. It has made clear that it is capable of keeping up with its younger competitors by expanding its outreach and adding further value to itself by introducing newer and exciting games to play. Reinforced by excellent account security, responsive customer support, and plenty of games, WinTrillions is worth your playing time and makes lotteries exciting, fun and rewarding.