EuroMillions Expert Review | Play EuroMillions Online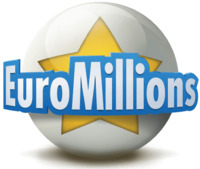 One of the hottest European lotteries loved by players worldwide, EuroMillions has the potential to award players upto €190 million (approximately £173 million) with just one lucky ticket. Almost every reliable Internet-based lottery platform offers players from all over the world a chance to win this grand jackpot.
EuroMillions began on February 7, 2004, after France, UK, and Spain's respective lottery organizations (and company in case of the UK's private company Camelot) had teamed up to create the game. It revealed its first numbers on February 13, 2004, on Friday in a draw done in France. In less than a year, it had accommodated players from the Austria, Belgium, Ireland, Luxembourg, Portugal, and Switzerland.
EuroMillions Mechanics
To participate in EuroMillions, players have to choose five numbers from 1-50. Players can win secondary prizes in the separate Lucky Stars game where they choose two numbers from 1-12.
Each line costs approximately £2.70 pounds. Players pay double the line price if they join the double jackpot. To check the results after each draw, players can head to the official website, Euro-Millions.com, France's French TV 2 channel at 19:30 Irish Time, or their favorite online lottery service's results page.
Sample EuroMillions Prize Breakdown
Match all seven numbers and win the grand prize. However, there are still secondaries that you can win! Jackpots not won for the week are rolled over to the next week. If the jackpot reaches £174, the amount will cap for two weeks before it rolls down if there is still no winner.
Match 5 + 2 Stars              £51,702,049.60
Match 5 + 1 Star                £243,054.30
Match 5                             £72,784.20
Match 4 + 2 Stars              £24,774.10
Match 4 + 1 Star                £22,701.00
Match 3 + 2 Stars              £34,078.10
Match 4                             £17,964.60
Match 2 + 2 Stars              £83,111.50
Match 3 + 1 Star                £87,683.20
Match 3                             £161,700.00
Match 1 + 2 Stars              £228,316.90
Match 2 + 1 Star                £692,385.60
Match 2                             £811,949.40
EuroMillions Draw Schedule
EuroMillions draws every Tuesday and Friday at 21:00 Central European Summer Time and televised live on France's French TV 2 channel.
Closing Time
EuroMillions closes all ticket sales 30 minutes before the draw at 20:30 CEST. Ticket sales resume one hour after the draw at 22:00 CEST.
Top EuroMillions Winners
EuroMillions had made dozens all over the world. These five truly won as handsomely as possible.
Colin and Chris Weir: Mr. and Mrs. Weir, married for 30 years, earned an estimated £162 million in July 2011. Upon learning of their victory, they said they were "tickled pink."
Dave and Angela Dawes: Mr. and Mrs. Dawes never imagined their third try to be so rewarding as to give them approximately £101 million. Upon learning they won, they said they had to pinch themselves.
The Portuguese Instant Millionaire: The unnamed winner of the €190 million (£173 million) grand prize on October 24, 2014, from Portugal had to pay 20% tax on his or her winnings, but he or she might have purchased his or her mansion anyway.
Jacques: In France is a man who calls himself "Jacques." He is described to the media as a cultural and self-taught man who won approximately £156 million. He used his money to set up a charitable foundation to help community projects in France.
Nigel Page: He may have only won an estimated £56 million, but he celebrated with a bacon sandwich, married his girlfriend, and purchased a mansion for himself using his money. He also said he would love a car because he has not had one in the last ten years.
Biggest EuroMillions Jackpots
The following dates had the biggest jackpots EuroMillions has ever reached:
October 24, 2014: £173,175,500
August 10, 2012: £148,656,000
July 12, 2011: £161,653,000
November 13, 2012: £154,102,650
October 11, 2016: £153,190,800
Online Lotteries Similar to EuroMillions
EuroJackpot: Launched in March 2012 by Germany, Finland, Denmark, Slovenia, Italy, and the Netherlands, EuroJackpot is to become the counterpart of EuroMillions after the countries had seen its success since 2004. Many features, such as the five numbers out of 50 and the lottery's "EuroNumber" pair selected from 1-10 closely resemble the betting odds in EuroMillions. Read our EuroMillions vs. EuroJackpot article for a detailed comparison of these two popular European lotteries. Our in-depth review of EuroJackpot covers this game in more detail.
French Loto: France's national lottery might have been the base idea for EuroMillions. Players must select five numbers from 1-49 and two "Chance" numbers from 1-10. All six numbers must match to win the grand prize.
EuroMillions and Brexit
Even if the British Exit or Brexit pushes through in the next few years, UK players can still play EuroMillions. The UK National Lottery is still recognized as part of EuroMillions post-Brexit because, as per official statement of its website, EuroMillions is organized between the official operators of participating member states and not their governments.
Possible currency fluctuations between the Pound Sterling and Euro can mean higher winnings for UK players joining the lottery after Brexit. Secondary prize values remain unchanged because the UK Camelot Prize Fund pays for the UK.
Play EuroMillions Online Lottery For Free
EuroMillions offers a free online lottery option - all you need to do is create an account on their website, and you can instantly participate in the daily draws.
Where to Play EuroMillions Online
To join EuroMillions online, players need to find an online ticketing or betting service they find comfortable to use. Ticketing services purchase real entry tickets through their purchasing offices and can be more expensive. However, they provide added security with the ticket as proof of purchase. Betting services sell betting products based on EuroMillions' mechanics and use an insurance model to pay for grand prizes, which make them cheaper and somewhat convenient to use.
Most Internet-based services need players to create an online account and make a deposit before they can begin buying tickets or placing bets. They often have facilities for standard credit cards such as Visa or Mastercard, e-wallets such as Skrill, and even some instant money services listed on their respective websites.
Online services give players bonuses for signing up, such as a discounted first ticket, a "buy one, take one" ticket gift, or give you a 100% refund if your first ticket fails to win you anything. Players can even get bonuses for buying multiple lines or by subscribing to consecutive draws.
However, it would be wise for players to check with their local laws if they need to pay taxes on their winnings or if online lotteries are illegal in their respective countries. All online lottery facilities allow anyone to join lotteries only if they are 18 years of age and above.